(Photo: © Fuka)
Simple UCM solution
The new Fuka shaft brake protects against unintended car movement. It is a user- and installation-friendly solution that guarantees safe and easy retrofitting, also in situ, according to the company.
Unintended car movement (UCM) is a risk in the use of passenger and cargo lifts. Consequently, a UCM system has been mandatory for all lifts that entered operation after 1 January 2012.
Since every lift is subject to the Operational Safety Ordinance, which prescribes operation of lifts according to the state of the art, retrofitting of a UCM system also to lifts that entered operation up to 31 December 2011, can enhance safety.
Optimised for retrofitting
There are various solutions for this. There have also been numerous products for modernisation on the market for years. Fuka has now developed a new shaft brake (UCM-Fix) that has been licensed both as protection against unintended car movement (UCM) as well as protection against overspeed for upward moving lifts.
The brake system has been optimised above all for retrofitting to existing lifts and is essentially based on the closed-circuit current safety brake of mayr. Installation in new lifts is also possible.
User- and installation-friendly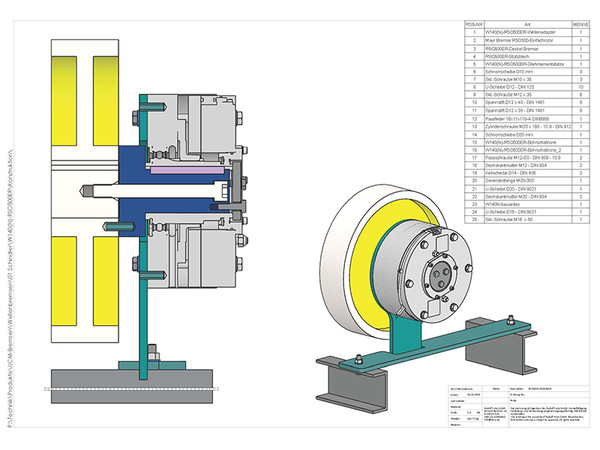 As with the well-known two-circuit brake systems from Fuka, which are now available for over 80 brands, the new shaft brake is designed with a drive-specific adaptation. "As a result, we can offer a user- and installation friendly solution that also guarantees safe and easy retrofitting in situ," explained Fuka's technical director, Frank Eßer.
Thanks to the closed, preset system, no on-site setting is required and no resetting in operation. Consequently, malfunctions due to operating and setting errors are precluded. Thanks to the large 600 – 11,000 Nm braking torque range, it is capable of versatile use – from small passenger lifts to heavy cargo lifts, Fuka emphasised.
Tailored service range
Fuka already has finished solutions for many standard drives and its portfolio is constantly growing. "But we also find special solutions for previously unknown drives, that's part of our daily business," Eßer noted. Based on a photo of the drive, Fuka makes a simple dimensions sketch to determine the data needed for the design.
The scope of delivery includes the complete system, ready for installation, consisting of the Mayr brake adaptation to the drive-/traction sheave shaft and installation accessories. If the traction sheave and rope are about to be changed, Fuka can prepare the former to render installation of the shaft brake easier and faster, the company explained.
Fuka offers installation in Germany
On request, a matching A3 control unit with UCM detection for the landings can be supplied. Calculation of the stopping path is also part of the optional scope of delivery. Although installation is easy, Fuka offers to install the product throughout Germany if necessary.
Together with its cooperation and distribution partner, Vertima GmbH Aufzugs- und Gebäudetechnik, the brake system was in addition designed to ensure that it can optionally be deployed for replacing outdated brakes, such as the TSB2000, TSB20210 and TSB2012.


Weitere Informationen: fuka.de
vertima.de