Markus Stucke. (Photo: © Vertima)
"Vertimag" became "Vertima"
This year, Markus Stucke's Vertima Aufzugs- und Gebäudetechnik celebrated its 20th anniversary. The name is part of the company's history.
Its establishment was not an easy birth, according to Stucke. At that time, he was still working for the sales department at LiftEquip (formerly Thyssen Components) in Neuhausen and originally wanted to launch his own company with two companions. Agreement had already been reached on a name: Vertimag. For "vertical" and the three initials of the first names. But then the "G" in Vertimag withdrew and it became Vertima. Shortly thereafter, the second companion also bailed out.
Stucke nevertheless decided to found the company. On 22 February 2001, he had the company registered at a notary's office in Nürtingen. The first order arrived in the afternoon.
Vertima initially concentrated on drive technology that it obtained from Montanari in Modena. However, the product range expanded quickly. For example, soon afterwards traction sheave brakes were offered in addition to the drives as well as assembling the components at the customer's. On top of this there were the company's own innovations, such as the introduction of "Balance", an independent rope compensation system or "SilentLift" for noise decoupling.
"Business can also be fun"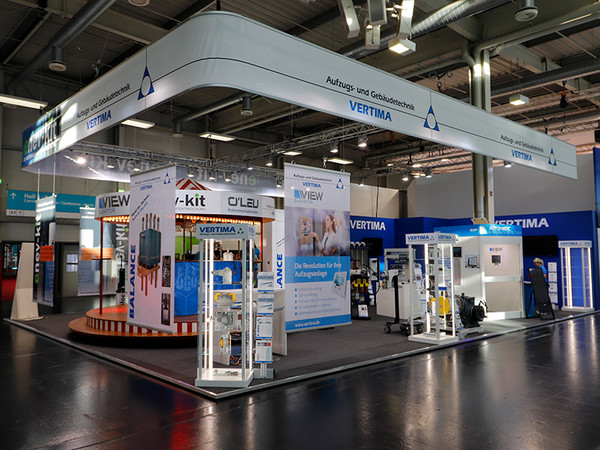 Business developed quickly. The one million euro barrier in sales was broken for the first time in 2008, last year two million for the first time. The customer pool is now international, also coming from Brazil, South Korea, the USA or Canada, apart from Europe.
Stucke attributes his success to good technical support, reliability vis-à-vis his customers, but also to his personal business philosophy that hard business "can also be fun, involves giving and taking and the human aspect cannot be neglected."
Nevertheless, running a company on one's own was hard work, Stucke noted, but he still wanted to continue, "I have a great team and my 'baby' has now grown up - although I practically raised it as a single parent."


More information: vertima.de