The new safety door of Stingl GmbH. (Photo: © Alexander Stingl / Stingl GmbH )
Safety door: intelligent shaft safeguarding
The new safety door of Stingl GmbH is intended to raise shaft safeguarding to a new level. The new development is type tested according to the Machinery Directive 2006/42/EC and available with immediate effect.
Shaft safeguarding is an obligation and legally required during installation work. Especially when it comes to modernisations in existing buildings with non-professional traffic – e.g. building residents and hotel guess – this measure has to be implemented safely. However, shaft openings also have to be secured against falls and falling objects in new buildings.
At the same time, those responsible for lift construction also want a solution that is as economic, appropriate and easy to handle as possible. "Stingl GmbH has now come out with a new development here. "The innovative Stingl safety door product combines safety with flexibility in a full surface, sturdy solutions, which is easy to install and reusable," explained the company from Obersulm (Germany).
Installed quickly and easily
The centrepiece of the Stingl safety door is the door modules and a few other individual parts that can all be installed with standard tools. The two-part hinged doors available in different sizes consist of a trapezoidal laminated core and are enclosed by an aluminium frame.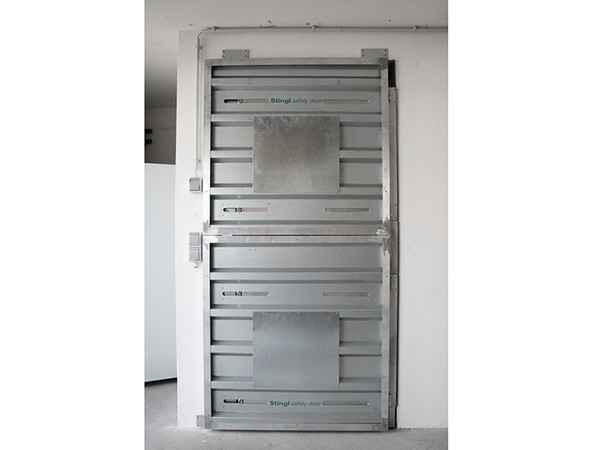 Especially when it comes to existing buildings, the safety door can normally be installed without any drilling. Dowels are only needed in the case of reveals that are too small or absent. Tensioned parts also form part of the modular system. Apart from the vertical tensioning supports, a horizontal module provides for additional assistance in holding the position. This sill profile is telescopic and as a result fits easily into any existing door width.
Stingl GmbH also has a system solution for very wide shaft apertures. On request, the safety door principle can also be supplemented by another door element or a permanent structural element, such as a wooden panel or metal guard. On request, Stingl also produces signs with the company logo or warnings, such as "No entry". They can be attached temporarily (magnetically or with Velcro) or permanently (riveted or screwed).
Simplification for fitters
Every lift is different and the Stingl system is also intended to provide for this: the safety doors can be hung on the right or left at any time. For this, just a minor conversion of the vertical supports and shifting of the rotary lever locks is needed.
As an option, the Stingl safety door safeguard can be supplemented with three-part lateral protection with handrail, knee rail and kick plate. If various kinds of work have to be performed on the open shaft with open doors, this lateral protection provides additional fall protection.
The integrated measurement technology should be an additional simplification for the fitter. When tensioning the vertical door supports, the door sill and lintel must be able to absorb a vertical load of V = 3.6 kN. The fitter can visually inspect and monitor the tensioning force with the aid of belleville springs.
Maximum safety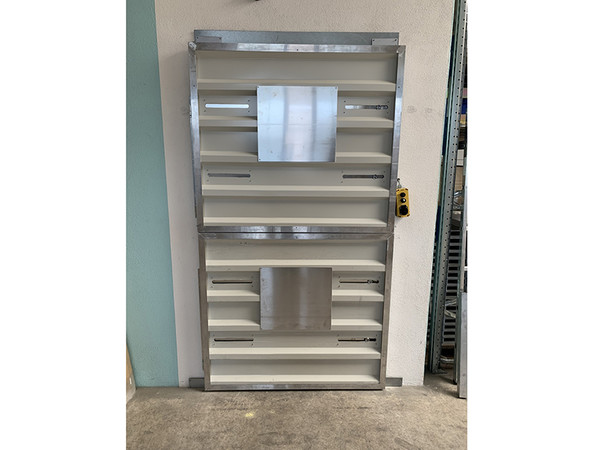 The safety solution can also be locked – from outside and from inside the shaft: the Stingl safety door has four triangular rotary lever locks. After use, the reusable Stingl shaft safeguarding can be quickly dismantled and is ready for its next task. "Consequently, the safety door is a way of consistently saving time during every modernisation and new construction project - with maximum safety and convenient working for the fitter," emphasised the company.
The latest product of Stingl GmbH is type tested according to the Machinery Directive 2006/42/EC and certified under the number NL20-400-1002-351-01.


More information: stinglonline.de