Yaskawa presents the LA500, a new AC drive developed especially for lift applications. (Photo: © Yaskawa)
New LA500 AC frequency inverter for lift applications
The new LA500 compact AC drive for lift applications delivers maximum travel comfort thanks to its new features and reliability. This compact drive is simple and easy to integrate into existing lifting systems, which helps save time and costs during installation.
The LA500 is Yaskawa's latest generation of lift inverters that are ideal for both new systems and the refurbishment market. These compact drives are designed for easy integration into existing lift systems, while surpassing the travel comfort of their predecessor series. Their SIL3 STO functionality allows for operation without motor contactors.
These newly developed drives also feature an integrated class C2 EMC filter in accordance with EN12015, coated boards (3S2 and 3C2 for harsh environments) and braking choppers ex works. That reduces the number of components in the control cabinet, which saves space and increases the reliability of the system.
Another special new addition is the standstill tuning feature. This method allows for motor control without removing the cables. The function guarantees optimum motor calibration in just a few seconds, without needing to set the engine in motion to do so. In addition, the motor does not have to be "turned" during commissioning if the direction of rotation has been wired incorrectly, for instance. That means the basic settings can be configured in just a few minutes, saving time and money.
Maximum Travel Comfort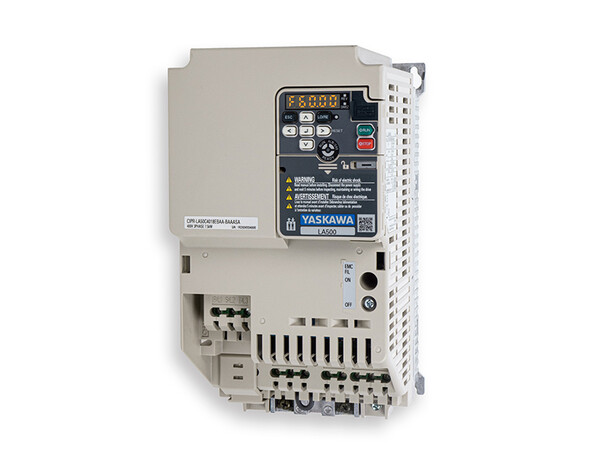 While developing the LA500, Yaskawa focused on motor control and travel comfort. This compact elevator drive can also now be used for applications with closed-loop control (with a motor encoder), which expands the potential to use the LA500 in refurbishment projects and new systems.
Alongside the very high travel comfort, elevator noise is also reduced to a minimum. The newly developed motor noise reduction function scores high marks with the automatic adjustment of switching frequencies. With precise motor control and a high starting torque, flexibly configurable travel profiles and a brake control that has proven itself a million times over, the LA500 provides everything you need for a smooth ride and accurate elevator positioning.
Like all Yaskawa AC drives, the sustainable new LA500 is designed for ten years of maintenance-free operation. This fact is reflected in its robust hardware setup, which enables operation without any reduction in power at ambient temperatures as high as 50° C and features very low power consumption of less than 10 W in standby mode.
Energy is not only saved in standby mode, but also during operation. For instance, the LA500's fans are temperature-controlled and only run when they are really needed. As well as saving energy, this prevents the build-up of dirt due to swirling dust inside the control cabinet. 

More information: yaskawa.eu