Landing door modernisation kit for a two-leaf, telescopic door. (Photo: © Meiller Aufzugtüren)
Fast and dust-free landing door modernisation
The Munich door specialist, Meiller Aufzugtüren GmbH, recently presented its new modernisation concept for car doors. But Meiller has also developed a corresponding solution for landing doors.
If you recall, in the case of old, worn-out car doors, you can replace just the door mechanism and leave the door leaves and sill as they are. Or replace the complete car door, either with Meiller standard door leaves or with door leaves in the dimensions of the existing ones (currently under development and targeted for Q4/2021).
Meiller has now also developed a corresponding solution for landing doors. This because decorative stainless steel wall enclosure frames or prestigious portals made of marble or other high quality materials are often installed in front of the old landing doors.
If the landing doors are completely replaced, these would also have to be demounted and expensively reproduced and fitted. This not only means considerable additional financial expense, but also noise and dirt for the residents and longer project duration for modernisation, during which the lift is unavailable to the users.
Flexible modernisation concept
To avoid this, Meiller has also developed a flexible modernisation concept for landing doors. Here, the existing landing door can remain installed. The door frame and any existing wall enclosure frames or portals on the landing side and sill do not need to be touched. Instead, all components and parts of the door mechanism of the old door are replaced and a matching, pre-assembled Meiller mechanism kit is mounted in the existing transom housing.
This unit is supplied with a set of attachment brackets that permit its position to be adjusted both in depth as well as in height. Furthermore, this kit includes an adaptation to the existing emergency unlocking mechanism of the old landing doors and a new closing weight connection.
Appealing new look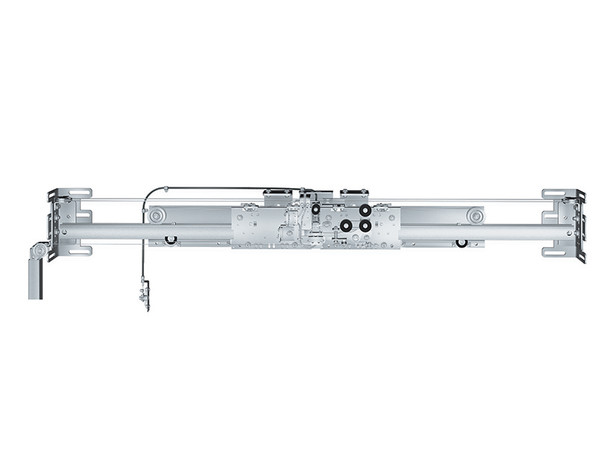 Finally, the trolley of the new mechanism is connected by adapter plates to the remaining door leaves of the old door. These are produced order-specifically according to dimension specifications that were previously determined by the lift company based on a technical data sheet and supplied with the order.
If the old door leaves are optically upgraded by a fresh coat of paint and the doors are reset, the value of the lift is enhanced and provides users with an appealing new look.
No further adjustments
Alternatively – as with the car door as well – door leaves can be supplied together with the mechanism, corresponding to the dimensions of the existing ones. As a result, no further adjustments need to be made here. In this case, to guarantee fall safety, a new door sill is also needed. Here too, development is underway; the design will probably be available in the fourth quarter of 2021.
The new modernisation solutions from Meiller are available for two-leaf, centrally opening telescopic and four-leaf, centrally opening landing doors.


More information: meiller-aufzugtueren.de