The next E2 Forum Frankfurt is scheduled to take place in Frankfurt am Main on September 21 and 22, 2022. (Photo: © Messe Frankfurt GmbH / Sandra Gätke)
Next E2 Forum Frankfurt in autumn 2022
The next E2 Forum Frankfurt will take place in autumn 2022. The decision for the regular date on 21 and 22 September 2022 was taken by the organiser – Messe Frankfurt.
In this way, the Messe Frankfurt together with the companies of the elevator and escalator industry represented in the exhibitor advisory board and cooperation partner VDMA are taking into account the dialogue character of the conference and innovation forum for elevator and escalator technology.
The stakeholders' decision was taken unanimously: All companies represented on the exhibitor advisory board, the representatives of the cooperation partner VDMA and Messe Frankfurt voted for the regular date on 21 and 22 September 2022 and for a break in the summer of 2021.
A fact significant to this decision was that the event is essentially characterised by a contact and conference format as well as the networking evening event. These elements will only be possible to a limited extent in 2021, if at all, says the press release of Messe Frankfurt.
Live, high-contact, 2022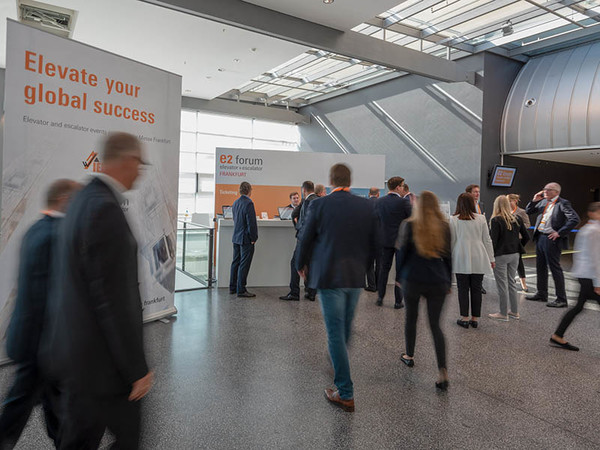 "The appeal of the E2 Forum Frankfurt is to share relevant building technology topics of the future with our industry and to make them the direct subject of cross-industry networking. We are taking a break this year and getting ready for an entirely appropriate E2 Forum Frankfurt: live, high-contact, 2022," explained Albert Schenk, Managing Director of OSMA Elevators and Chairman of the Board of the VDMA Trade Association for Elevators and Escalators.
Messe Frankfurt supports this view: "Facing the continuous contact restrictions and event requirements, we cannot yet recommend an implementation of this successful concept in 2021", said Wolfgang Marzin, Chairman of the Board of Management of Messe Frankfurt. "The first E2 Forum in Frankfurt was a great success, and we want to continue this with the industry in 2022."
Tailwinds for E2 Forum Frankfurt 2022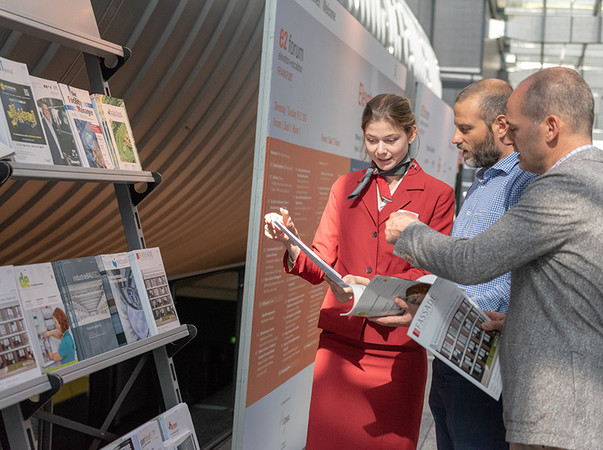 The E2 Forum Frankfurt on 21 and 22 September 2022 (Wednesday and Thursday) has strong backing from the industry "For us, the E2 Forum Frankfurt 2022 is set. If it pauses this year, then that is a responsible and professional decision. And we support Messe Frankfurt's approach of enabling us exhibitors to coordinate closely and at an early stage", says Wolfgang Nothaft, Managing Director Meiller Aufzugtüren.
Hans Sacherer, Head of HighRise Sales & Consulting in TK Elevator's Europe-Africa business, has similar priorities: "As important as the E2 Forum Frankfurt is as a networking platform, the challenge of cushioning the Corona pandemic and its consequences in the interests of our participants from Germany as well as from abroad close to the border remains central: If live on site, let's do it right – in 2022!".


More information: www.e2forum.com
Members of the Exhibitor Advisory Board of the E2 Forum Frankfurt: These companies and institutions from the elevator and escalator industry are represented on the Exhibitor Advisory Board of the E2 Forum Frankfurt:

• Ebru Gemici-Loukas, VDMA Elevators and Escalators Division (Association of German Machine and Plant Manufacturers),
• Klaus Gerhards, WITTUR GmbH
• Udo Hoffmann, OTIS GmbH & Co. OHG Unternehmenszentrale Deutschland
• Dr. Peter Hug, VDMA Elevators and Escalators Division (Association of German Machine and Plant Manufacturers),
• Björn Kollmorgen, Kollmorgen Steuerungstechnik GmbH
• Wolfgang Nothaft, MEILLER Aufzugtüren GmbH
• Dr. Meinolf Pohle, Schindler Deutschland AG & Co. KG
• Hans Sacherer, ThyssenKrupp Elevator (CENE) GmbH
• Albert Schenk, OSMA-Aufzüge Albert Schenk GmbH & Co. KG
• Martin Schmitt, Aufzugswerke Schmitt + Sohn GmbH & Co. KG