(Photo: © Wittur)
Wittur launches mechanical packages
Wittur has launched mechanical packages, using Wittur components as foundation. They should ensure a high compatibility among all components, faster and easier installation, and quick development of specifically engineered solutions.
By Carlos Rocholl
In the European elevator market, there is a growing need for new perspectives, ideas, or solutions to allow elevator installation companies to complete their jobs more easily. On the other hand, European market also demands fast responsiveness to inquiries and flexible design.
As an elevator component manufacturer, Wittur wanted to address these market demands in a more efficient way, therefore it has been working on the design and industrialization of mechanical packages, using Wittur components as foundation.
Car sling as core element
Wittur Mechanical packages are already available for the low-rise elevator segment in Europe, with components engineered and produced in Wittur plants in Austria, Slovakia, and Germany.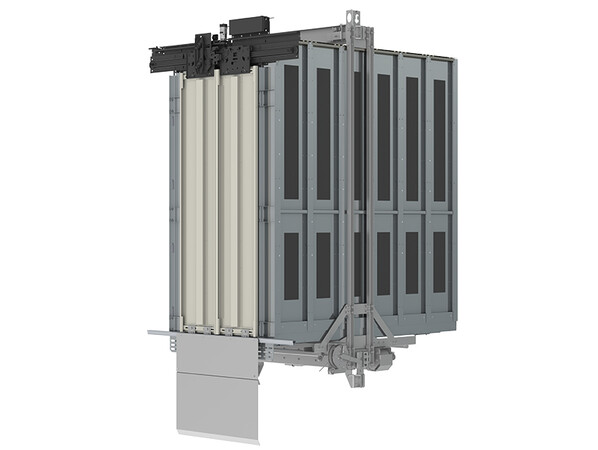 The car sling is the core element: its configurable modular design provides the easiest interface with car, guide shoes, safety gears and shaft elements. Wittur car slings host Wittur safety gears, produced in Wittur Austria with full traceability. They are available in uni- or bidirectional execution and with mechanical or electromechanical activation.
This latter solution offers very fast activation times, and it is becoming more and more interesting for new elevator installations with digital position encoders. Wittur safety gears can also be supplied as certified UCM solutions.
They are complemented by a range of safety shaft components also made in Austria such as overspeed governors and tension weights.
Use the shaft space in an efficient way
Wittur cars are designed to use the shaft space in an efficient way; Wittur counterweight frames are designed with compactness in mind, either in the shaft or during transportation and installation.
Wittur also manufactures sliding guide shoes for low rise applications, and roller guides for mid- and high-rise. These components are crucial for the end user experience, and they are responsible for a big portion of the perceived elevator ride comfort.
Wide range of options
Wittur gearless motors offer compact, powerful and energy efficient design, are produced in Germany and are available for different applications, including belts and coated ropes, with a wide range of options.
For modernization projects, Wittur can integrate also third-party gearbox solutions, and refine the project by providing bed plates, deflection pulleys, and other ancillary equipment.
Digital tools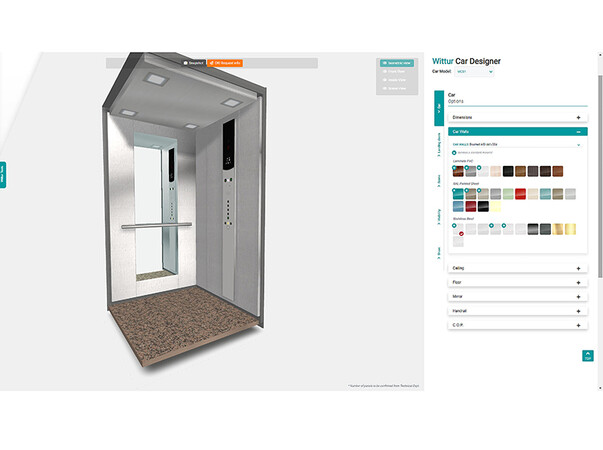 In the current world, digital tools ensure project optimization in terms of cost, performance, and installation times. Wittur offers a complete Technical Calculation Tool (Wittec) to find the best combination of motor and options for each elevator project.
Getting the right appearance can also be tricky sometimes: that is why Wittur has developed an online 3D Car Designer (https://www.wittur.com/en/elevator-components/cars/wittur-cars-designer-tool.aspx) to help experiment with available materials and create a car look in a simple and fast way.
Last but not least, checking the correctness of the installation and monitoring in real time the status of components of each elevator after commissioning are becoming the key to optimized maintenance, based on predictive algorithms. Wittur is developing and will soon release a digital platform called ElevatorSense, which provides an array of innovative, easy-to-use and powerful cloud-based solutions to support customers during installation and service operations in the field.
The author is Product Solution Business Leader Mechanical packages at Wittur Group.

More information: By combining its range of components into mechanical packages, starting from the low-rise segment in Europe, and adding on top a range of digital tools, Wittur wants to bring these advantages to its customers:
• They need to deal with just one supplier for most of the elevator: optimized logistics, shorter lead time, easy troubleshooting on site.
• Reduced complexity during the assembly of the parts, less errors and shorter installation and commissioning times.
• Wittur application engineering teams can supply individual customized solutions based on standard mechanical packages.
• Wittur Digital tools should help to design optimized elevators with good looks and easily check correctness of installation, monitor each individual elevator and benefit from predictive maintenance with a cloud-based and safe solution based on Wittur experience.

wittur.com
This might interest you as well: