(Photo: © Bosch Service Solutions)
Why the dual sense emergency call can do more
The companies Bosch Service Solutions, Elfin Technology and Schaefer have developed a solution as part of a joint venture with which an existing audio emergency call device can be retrofitted as a new dual sense emergency call device.
This does not require replacing the previous emergency call device. Lifts can be configured to be more barrier-free with the dual sense emergency call device. Apart from hearing, vision is also employed via the display in the car, in line with the dual sense principle. This is of particular benefit to people with impaired hearing. But there are even more advantages.
Added value through visualisation of information
In the event of an emergency, the dual sense emergency call device in a lift not only allows non-verbal communication for people with impaired hearing with the emergency call centre, but also people who do not know the respective national language. Apart from the visual presentation of the lift emergency call, advertising and building information can also be shown on the car display. Moreover, the operator itself can modify this content at any time.
This was facilitated by a joint venture of Bosch Service Solutions, Elfin Technology GmbH and Schaefer GmbH. An additional module with display is installed in the car in the case of the dual sense emergency call device. The existing emergency call device and connection to an emergency call control centre can be retained.
Added value through data recording possible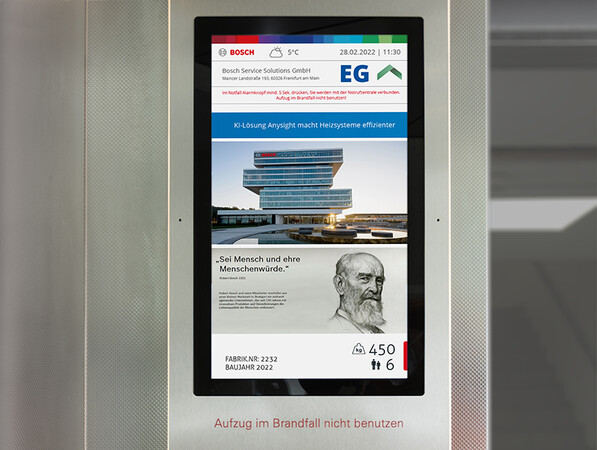 Furthermore, with the assistance of the open interfaces of the solution, important operating data of the lift components can be permanently recorded and displayed via the cloud. If defined target values are exceeded, this information can be reported immediately to the operator.
Added value independence
This is a customised solution, which is technically separate from the control centre reception technology and emergency call device. Only procedural integration at the control centre operator is required. This means that integration in the existing emergency call device of the already contractually bound control centre operator is in most cases possible.
Bosch offers this solution, including assembly and start-up, from one source. Control centre operators are supported upon integration with a prior demonstration.
"The demo installations at Schaefer GmbH in Sigmaringen and in the Bosch office in Berlin have shown that the dual sense emergency call device is fast and easy to install," the three companies emphasised.

More information: Interested parties can arrange a demonstration appointment in Berlin or Sigmaringen. Registration: aufzug@de.bosch.com

boschservicesolutions.com
elfin.de
ws-schaefer.com