Buffer Ø 100 x 80 mm of Autan XL, load capacity 700 - 3,000 kg. (Photo: © Acla-Werke)
New generation of Acla Lift buffers "XL series"
The new generation of Autan XL lift buffers from Acla-Werke offers significantly improved performance compared to previous buffer series.
With only three buffer sizes (six versions), almost the entire market demand is covered, explains the company, which manufactures and develops lift buffers made of polyurethane elastomers for worldwide use.
Today, lift buffers as type-tested safety products are confronted with increasingly stringent requirements. These range from regional and supra-regional certification requirements (CE, UKCA, EAC, ASME 17.7 - 17.1) to requirements for hydrolysis resistance in warm and humid environments to the lowest possible compression and expansion under maximum load.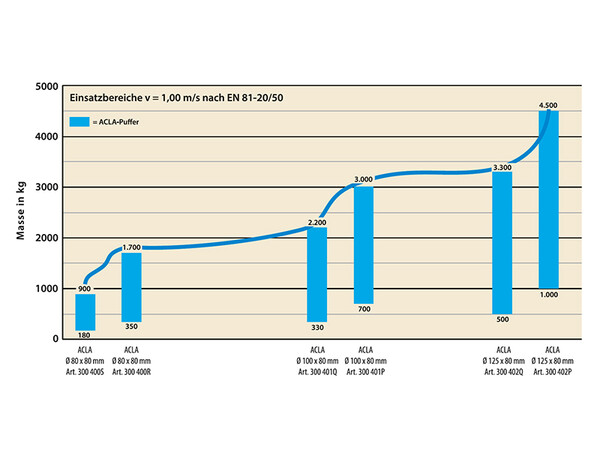 The new generation of Autan XL lift buffers has been certified by TÜV Süd. It will be available from mid-2022.
In addition to the significantly improved performance values, it has further advantages, explains the manufacturer:
- A smaller Ø 80 x 80 mm to Ø 125 x 80 mm series with large application ranges from 180 kg min. weight to 4.500 kg max. weight
- Replacing and surpassing the Ø 100 x 80 mm buffer size of the Autan HE range with the smaller Ø 80 x 80 buffer of the new Autan XL range
- Replace and surpass the Ø 125 x 80 mm, Ø 140 x 80 mm and Ø 165 x 80 mm buffer size of the Autan HE range with the smaller Ø 100 x 80 mm buffer of the new Autan XL range.
- Buffers with 140/165 diameter are thus no longer necessary
- Smaller expansion and deflection under load
- Worldwide certification
- 1:1 compatibility with previous buffers from Autan HE and other brands
- The type examination certificates issued by TÜV Süd are valid for an unlimited period of time (previously: limited validity of five years)
- Reduced volumes during transport
Individual reaction to customer requirements
"We want to offer our customers product advantages and real added value: A reduced variety of articles, smaller diameters with greater load capacity, as well as cost advantages and a more compact design," explains Acla-Werke Head of Sales Rainer Zipper.
As a manufacturer with its own formulation development, Acla-Werke has many options to react individually to customer requirements, Zipper continues. "We are not dependent on purchasing finished formulations or systems from the large-scale chemical industry."
With this product development, Acla-Werke wants to set a benchmark in the field of energy-storing lift buffers with non-linear characteristic according to RL EU/2014/33; EN 81-20/50: 2020 and BS 81-20/50: 2014 (UK) etc.

More information: acla-werke.de