Care is a system featuring two different technologies for the sanitization of car lifts in a few minutes. (Photo: © IGV Group)
Lifts and Covid-19
IGV Group is introducing a kit for air sanitization and car sterilization, designed for the safety of any installed lift. According to the company it is easy to install and suitable for any systems, reduced maintenance.
Lift cars and push-button panels are highly exposed surfaces to viruses and bacteria, and therefore deserve special attention, even more in this emergency situation.
IGV Group R&D department has immediately focused its efforts to develop an all-Italian kit requiring minimal intervention and ready to be applied in any installed lift, from any manufacturers, aimed to eliminate any risk of contagion and ensure a safe use.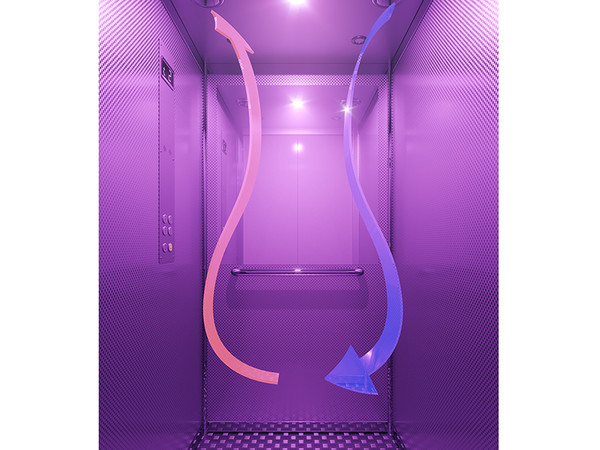 Care is a system featuring two different technologies for the sanitization of car lifts in a few minutes. A UV-C ultraviolet light, the same type used for sanitizing hospitals, guarantees the complete sterilization of the car surfaces, while a ventilation device with absolute air sanitizing HEPA filter, combined with an activated charcoal membrane, removes viruses and bacteria in the particulate. The air exchange is almost instantaneous, and sterilization occurs in the stand-by phase.
"Suitable for any system"
According to the IGV Group Care is also environment-friendly and good for people's health: the sanitizing device does not involve the use of ozone which could be irritating without an adequate air exchange, while the light is LED (not legacy neon type with highly toxic mercury).
"Care is easy to install, it requires reduced maintenance and is suitable for any system", says the company. "The device is also invisible in the car, extremely silent and with limited energy consumption."


More information: igvlift.com
This might interest you as well: