The Liftboy works independet of controllers and can be retrofitted in many existing lifts. (Photo: © Schaefer)
Contactless lift operation via smartphone
A new product of the lift component and control panel manufacturer Schaefer is unexpectedly topical: the Liftboy.
Not just during the current COVID-19 pandemic, but also in the time thereafter, everyday sensitivity about hygiene will undoubtedly increase. The focus here will also be on lifts.
According to a current publication in the Journal of Hospital Infection, Corona viruses can survive on metal and glass surfaces for up to nine days. Other pathogens can even survive over 28 days. Very busy lifts transport thousands of people in a few days.
More hygienic operation of lifts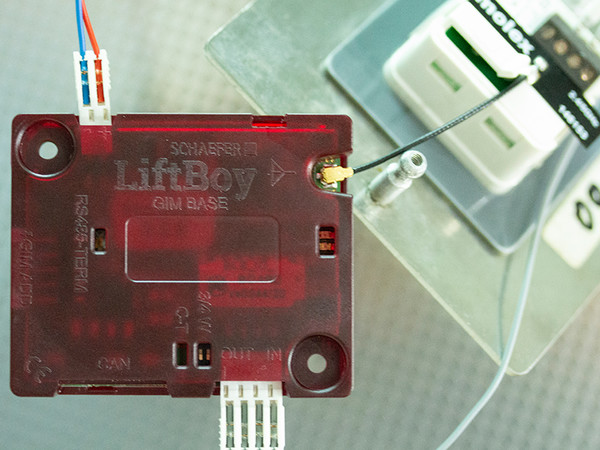 An innovation of the lift component and control panel manufacturer Schaefer is currently unexpectedly topical. The Liftboy, a solution for operating lifts with smartphones. It was originally developed to enhance comfort and promote barrier freedom.
The Liftboy works independent of controllers and can be retrofitted in many existing lifts, explained Schaefer. As a result of this modernisation measure, contactless lift operation is fast and easy to implement and the lift is in addition upgraded.
Barrier freedom is improved
Lift call and floor selection occurs manually or fully automatically with the Liftboy. In automatic mode, the smartphone can even stay in your pocket. The app recognises independently if the user is approaching a preferred lift from his favourite list. It calls the lift and automatically selects the target landing filed in the respective favourites. The system consists of hardware components installed in the operating panel and an app (Android and iOS).
Moreover, apart from the hygienic aspect and boosted comfort, barrier freedom for handicapped is improved, for example for wheelchair users, emphasised Schaefer.


More information: ws-schaefer.com

Sources: "Persistence of coronaviruses on inanimate surfaces and their inactivation with biocidal agents" March/2020, G. Kampf, D. Todt, S. Pfaender, E. Steinmann in the Journal of Hospital Infection (2020; doi: 10.1016/j.jhin.2020.01.022) https://www.journalofhospitalinfection.com/article/S0195-6701(20)30046-3/fulltext
This might interest you as well: