(Photo: © NASA/Joel Kowsky)
Elevators on the moon are closer than you think
This article does NOT discuss the well-known concept of a Space Elevator or delve into science fiction. Instead, it focuses on a new emerging market for elevators.
By Maya Glickman-Pariente and Yuval Valiano-Rips
Over the past two decades, humanity has maintained a continuous presence in space. Now, we stand on the precipice of a new era – a time when we will take our first steps as a multi-planetary species. Ambitious plans are underway to establish human habitats on the Moon and Mars, necessitating the development of vertical transportation solutions tailored to the unique challenges of extraterrestrial environments.
These future lunar and Martian facilities will require elevators capable of unloading equipment, supplies, and personnel from vertically landing landers. Human Activities will include harvesting resources for the lunar colony and for sending rare materials back to Earth use.
In the near future, the demand for vertical transportation solutions in celestial environments – such as the Moon, Mars, and space hotels – will skyrocket. This is the optimal time to conceptualize, identify suitable materials, and design elevators that meet the stringent requirements of extraterrestrial operation. A burgeoning commercial environment for space-proven elevator materials and components will emerge in this decade, necessitating active participation from the global elevator industry.
Advancements for terrestrial elevators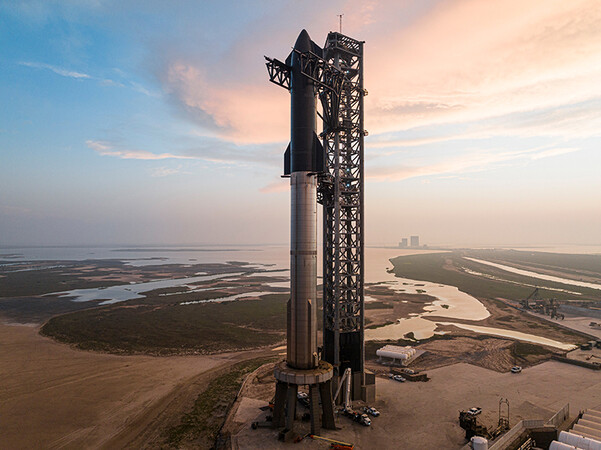 It is important to recognize that advancements made in elevator-related materials and products for the space industry will inevitably trickle down to terrestrial elevators. This will revolutionize their strength, weight, and efficiency, benefiting elevators on Earth.
Some space organizations and companies are currently constructing their own vertical transportation solutions tailored to their vehicles and mission objectives. SpaceX, NASA, ESA, and other space agencies and companies have ambitious plans to land humans on the Moon under programs like Artemis, which already achieved its first launch, with a manned moon flight scheduled for 2025.
Looking further ahead, visionary plans include the development of space hotels, which will undoubtedly require sophisticated vertical and horizontal transport solutions. As these structures expand and artificial gravity becomes a reality, elevators will become indispensable.
Space poses unparalleled challenges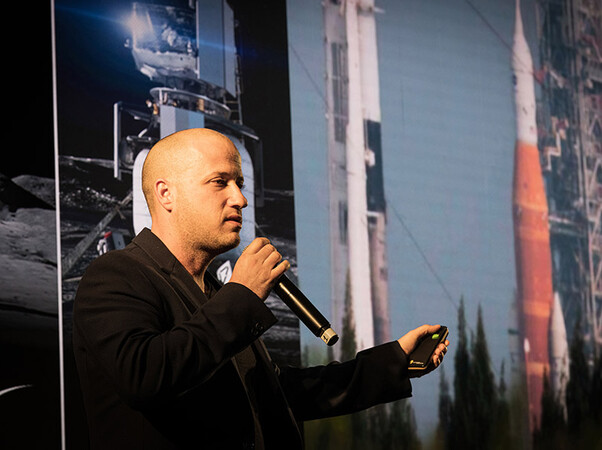 Yet, we must acknowledge that space poses unparalleled challenges. It is an unforgiving environment characterized by extreme temperatures, rapid temperature gradients, radiation hazards, and the vacuum of space itself, which induces a phenomenon known as "outgassing". Elevator designers must exercise utmost care in selecting materials that ensure safety, engineering performance, and long-term durability, while minimizing risk.
Embracing the challenges and opportunities of extraterrestrial transportation, the elevator industry can play a pivotal role in shaping the future of vertical mobility in the New Space Era. Active engagement in research and development, enhancement of space-grade components, and launching materials for testing in low Earth orbit (LEO) will pave the way for the creation of space-proven elevator systems. By doing so, the elevator industry secures its place in this exciting and rapidly evolving market.
In conclusion, the involvement of the elevator industry in the New Space Era is paramount. By acting decisively now, elevators can become an integral part of humanity's extraterrestrial endeavors. Not only will this drive progress in space, but it will also revolutionize elevators on Earth, forever reshaping the way we move vertically. The space elevator race has begun, and the time to take part is now.

More information: spacecialist.com
rips.co.il

This article is based on a paper written by Maya Glickman-Pariente, CEO, Spacecialist Ltd. and Yuval Valiano-Rips, VP Engineering, Rips Elevators Group. The paper was presented by Yuval Valiano-Rips on Elevcon2023 Congress for vertical transportation that took place in Prague, Czeck republic, June 2023. He worked for 15 years as a rockets engineer and is part of the managing team of Israel's Space Agency volunteering organization. Currently he is M.sc Student in Machine Learning & AI. Valiano-Rips has a B.Sc in computer engineering and applied physics.