(Photo: © Meiller)
Digitalisation of lift doors
The third generation of the "MiDrive" is intended to launch the third phase of digitalisation of lift doors at Meiller.
Whereas at the outset it was the many new possibilities offered by this product that were the focus of attention, in the second phase it was on the service technicians. Remote support via chat, automatic language recognition, etc. created a new digital tool for cooperation.
Remote support tool has undergone further development
Meiller has processed the findings of the last two years with the new MiDrive generation 3. The intelligence of the MiDrive system has created the foundations to once again expand the user functions considerably. The remote support tool has undergone further development and now offers additional video and audio recording in remote chat. The intelligence of the system expands the functionality of the app into a diagnostic tool.
All of these functionalities are available as free updates to users of earlier generation MiDrive door control devices.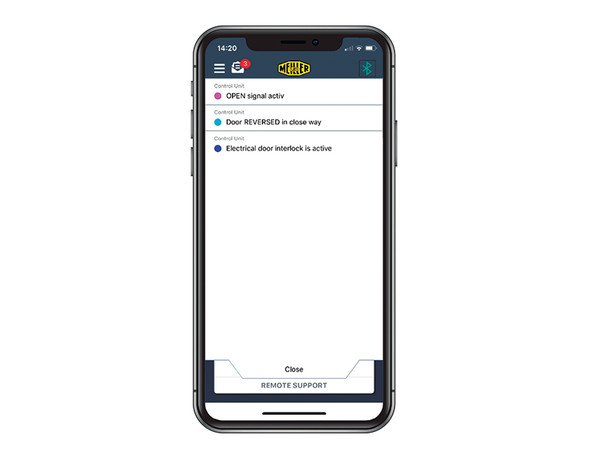 The system enables new options in communication in combination with CANopen:
• Door signals via CANopen, 24 V Input and the MiDrive APP are now displayed as push message via the app. As a result, the fitter sees all current status and fault messages. The MiDrive controller displays the CAN commands and status messages in the app to make CANopen Lift more accessible and comprehensible. Meiller MiDrive currently has far more functions in CANopen and reacts to more commands that other door controllers today simply ignore. The lift fitter sees where the message comes from (blue for 24 V signals, magenta for CANopen signals) and why the door drive currently now has this status. Whereas error and status messages used only to be displayed in monitoring, such information now appears actively as push messages in the service technician's app. As a result, such messages are unlikely to be overlooked.
• The virtual terminal for CANopen Lift permits the lift controller to access MiDrive. Wherever the technician can intervene in the lift controller, he has direct access from there to the MiDrive door controller. The setting tools of the control manufacturer become setting tools for the door controller.
• Measurements – also customer-specific – are provided additionally and without wiring of sensors via the CANbus and can be read out. Since the MiDrive technology is 32-bit based, the measurements provided also correspond to the current standard (generally used measurement units).
Improving the overall performance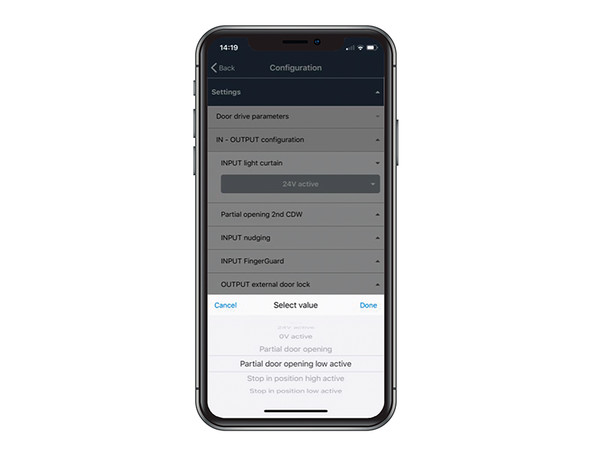 The latest generation of MiDrive technology is intended to show how intelligent systems can more efficiently configure start-up, maintenance and inspection and lead to better results.
Furthermore, it demonstrates how individual components can contribute to improving the overall performance of a lift if they contribute to the overall system.
By Wolfgang Nothaft
The author is managing director of Meiller Aufzugtüren

More information: meiller-aufzugtueren.de