Gefran has expanded its frequency converter product range for lift technology with the ADL500 series and as a result covers a wide spectrum of uses. (Photo: © Gefran)
New frequency converter for lift technology
Gefran has expanded its product portfolio in the field of lift technology with a new frequency converter series that is intended to cover a wide field of application and do justice to current industry demands.
From simple car drive models in residential buildings to smart converters for more complex tasks - e.g. in high-rise buildings with several lifts.
The new lift converter series ADL500 from Gefran includes the models ADL510 (4 to 22 kW) and ADL530, ADL550 and ADL550 ICS (4 to 75 kW). "Our new converters have become much smarter, for example, as far as start-up, remote operation or predictive maintenance are concerned," reported Giuseppe Savoca, sales manager of Siei Areg GmbH. "In addition, thanks to innovative technologies, optimised cooling methods and new IGBTs, we can offer compact devices with high performance."
Integrated Ethernet interface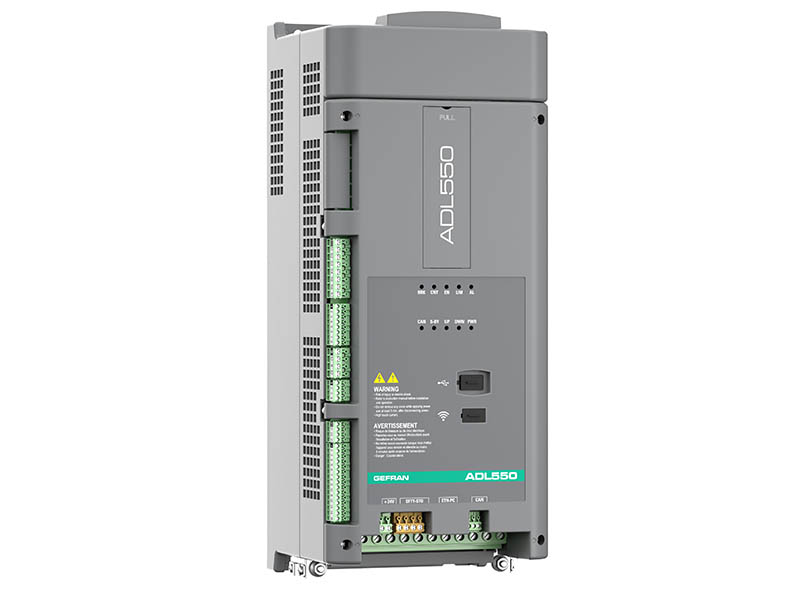 The differences in the various models are already noticeable in the motor technology. For example, the ADL510 – a converter for low buildings and 400 VAC power supply – can only drive asynchronous motors with a simple incremental encoder.
The models ADL530 and ADL550 are focused on more complex applications in medium and high buildings with greater demands on the drive. They are also suitable for synchronous motors and offer an integrated EMC filter, universal encoder input and a CAN417 interface. Other features are a WI-FI plug-in, USB connection for easy data transmission and various energy-saving options.
Moreover, the ADL550 offers the safety functions STO SIL3, SBC and SBT. All of the ADL500 series models have an integrated Ethernet interface for easy network communication and can be fitted with a programmable keypad. In addition, Gefran has a converter with integrated controller in its product range in the form of the ADL 550 ICS.
Smart functions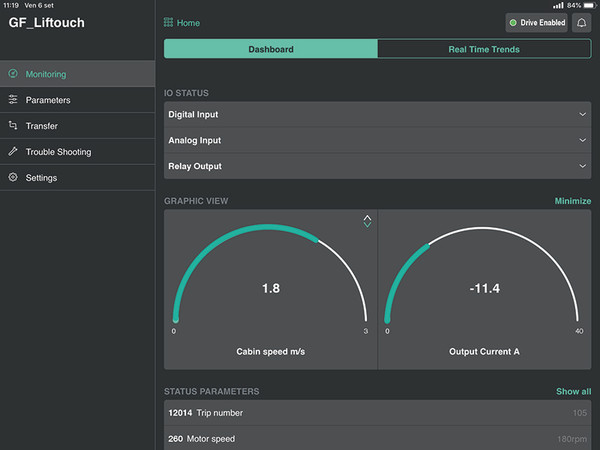 The ADL550 offers the option of loading motor parameters and various languages via USB or Ethernet. The frequency converter has a standard Ethernet cable for connecting with PCs and a WIFI interface. A remote connection via VPN, mobile data or a network are available to users for communication with the drive.
The web app GF_Liftouch facilitates device start-up and maintenance irrespective of location and without software. The corresponding data sets are easy to load and can for example be sent via mobile phone using the IP address of the converter. In addition, Gefran has provided comprehensive PC software with GF_Drivelabs. "Through our innovative solutions in the field of software and interfaces, we want to simplify and accelerate service queries and processes significantly," according to Savoca.
High-performance drive for lift doors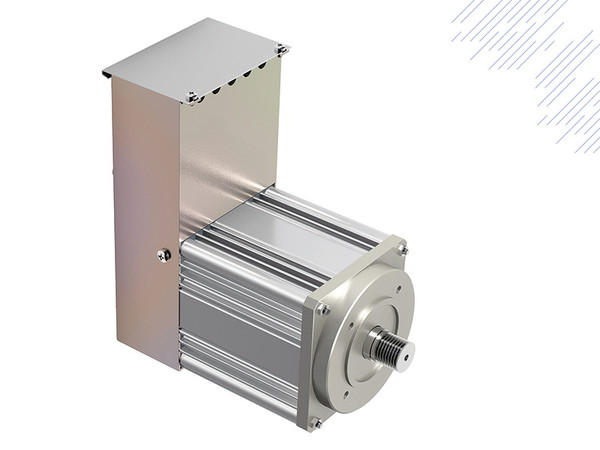 Apart from frequency converters for the car drive, Gefran also offers drive motors for lift doors. The new KFM LD consists of an asynchronous motor, frequency converter, line filter and encoder. If necessary, it is available including transmission and belt pulley in one unit.
"The focus in this drive is on sturdy, heavy doors," Savoca noted. "It's suitable for passenger or cargo lift door drives up to 400 kg. The KFM LD offers all lift door functions according to EN 81-20. This includes, for example, automatic opening and closing of the doors, simple start-up of the door by the push of a button and teach-in function for learning the movement direction, dimensions, mass and frictional forces. The drive has an integrated CAN interface, which can be customised as needed.
No limit switch or other fittings are needed for the lift doors. Security strips, light barriers and light curtains can stop the movement of the KFM LD directly via the digital inputs. Furthermore, the compact drive units were "especially simple, fast and convenient to install and configure," explained the company, "User-friendly PC software is included in delivery."


Weitere Informationen: gefran.com