SmokeGuard prevents smoke penetrating the shaft. (Photo: © Meiller Aufzugtüren)
Meiller: Pandemic phase used for new developments
The Munich door specialist Meiller exploited the difficult phase of the Corona pandemic to engage in further development of solutions in the field of doors and tackle and implement ideas for new products.
For example, Meiller occupied itself more with modernisation and developed new solutions here. The basis in car doors is a catch, which can be set to enable the hook bolt to actuate all kinds of third-party landing doors.
The manufacturer offers the option here of only replacing the door mechanism (ComfortLine). However, renewing the door leaves and replacing them with double-walled standard door leaves (CompleteLine) is also possible. Another version (RetroLine) is soon to follow, in which the door leaf dimensions can be adjusted to those in place, as a result of which a replacement can ideally occur without modifying the car indent.
The MOD concept for landing doors is similar in design. In the best case, this allows leaving the existing access portals as they are and in this way avoiding additional work and expense. The solution consists of a complete door mechanism, which is mounted in the existing transom housing (ComfortLine). Or you decide – as with the car door too – in addition for dimensionally modified door leaves (RetroLine).
Large and sturdy
Zenit Xtreme – Meiller's heavy duty door – not only offers extraordinarily large door opening dimensions (max. DB 8000 x DH 5000 mm), but thanks to its "sturdiness...is designed for the toughest demands," explained the door manufacturer.
An easy installation kit and zone kit are also available as new options: the easy installation kit is a finished, pre-wired safety circuit for doors with an electric door lock. As a supplement, the zone kit permits electronic definition of the door zones. Moreover, these two new kits can also be used in other Meiller doors where a "classic" door lock cannot be used, e.g. the folding door Sinius, the driven landing door Active, Hubtor Premius, etc.
Explosion-protected version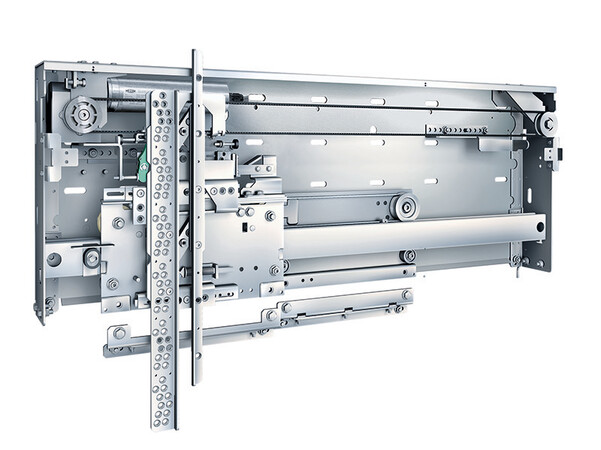 The Premius series. Lifting doors have now been supplemented by an explosion-protected version. As a result, not just horizontally-moved automatic doors and hinged doors are available at Meiller in explosion-protected designs, but also as vertical doors.
Moreover, doors with glass door leaves have been developed in which ultra-flat LCD displays are integrated. Information of all kinds can be loaded in the most common file or graphic formats and displayed to lift users in high resolution quality. And should there for once be nothing interesting to display, the surface looks like a mirror and prevents unwanted glimpses behind the glass surfaces.
Protection for children's hands
In addition, already familiar solutions have been supplemented with more door types and sizes: for example, in the safety area, the trapping of children's hands remains an important concern. The existing safety system FingerGuard now provides for more protection by a laser sensor in the upper frame detecting the fingers shortly before the side frame is reached and the drive abruptly stopping the door opening process.
Meiller offers fire-tested landing doors according to EN 81-58 (E120) in the form SmokeGuard in combination with a smoke-proof curtain made of a special tested material. In the event of fire, this curtain closes quickly and prevents toxic smoke spreading via the lift shaft to other floors.
In the high-end area, the high performance door Supra has been developed for very busy lifts, for example in shopping centres, office buildings, hotels, hospitals, etc. It offers rollers with a diameter of 90 mm. They are intended, in combination with other components, to provide for smooth door running and lower wear, explained Meiller.

More information: meiller-aufzugtueren.de