(Photo: © LEIA / LIFTEX)
Liftex returns
Less than four months to go until LEIA's triennial Liftex 2022 event takes place on 12-13 October 2022 in London, the organiser look at how the event is shaping up so far.
Now in its 34th year, Liftex 2022 is the UK's only dedicated exhibition for the lift, escalator and access industry. The last event, held in 2019, smashed all records and this year's show looks set to continue the trend, says the organiser.
The forthcoming event is gearing up to be even bigger, according to Event Director, Oliver Greening: "Despite the past few years of uncertainty, sales for the event have flown – with the floorplan extended to accommodate the demand from exhibitors. We have had to re-draw it to ensure we fit everyone in. This is such an encouraging sign that post-Covid and Brexit, the industry is ready to get together again and do business."
Over 100 UK and international exhibitors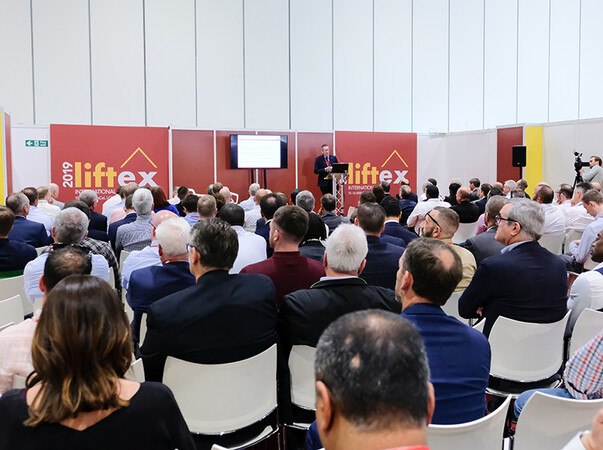 Over 100 exhibitors will be on display, including several joining Liftex for the first time, such as Otis, Schindler and TKE. Visitors will find a breadth of industry representation including contractors, service companies, component suppliers and organisations from support services.
International representation comes from Canada, Croatia, France, Germany, Italy, Poland, Spain, Sweden, Switzerland and the USA.
Free seminar programme
Alongside the exhibition, Liftex will once again play host to its free seminar programme featuring advice and guidance from industry experts. There the visitors can hear first-hand about the latest standards and regulations and implications of The Buildings Safety Bill. Plus, sessions will cover issues like Net Zero, connectivity, evacuation, safety and modernisation.
Greening concludes, "In just one visit you'll witness the current and future product and service offerings, gain an understanding of how to better manage, budget and anticipate requirements. This is in addition to the insights and latest guidance on standards and regulatory framework. We are looking forward to re-connecting with colleagues' post lockdown and post Brexit. Don't miss this opportunity to meet face-to-face and see first-hand the new products and services the industry has to offer."

More information: www.liftexshow.com