Ascendor QuattroPorte with Thermotür. (Photo: © Ascendor)
Ascendor lifts immediately with Thermotür
With immediate effect, the Austrian lift producer Ascendor is offering thermally insulated doors for buildings for the product groups car lift QuattroPorte, vertical lift UnaPorte, vertical platform lift PLV9 and shaft lift PL/KL 10.
The triple-glazed Thermotür thermal door is integrated to be airtight in the brickwork. Thanks to the heat insulation, the lift is thermally separated from the building and ensures the internal temperature remains constant. The thermally insulated doors also put in a convincing performance in exposed and windy installation situations thanks to the triple insulated door latch, emphasised the manufacturer.
Smoothly integrated into the wall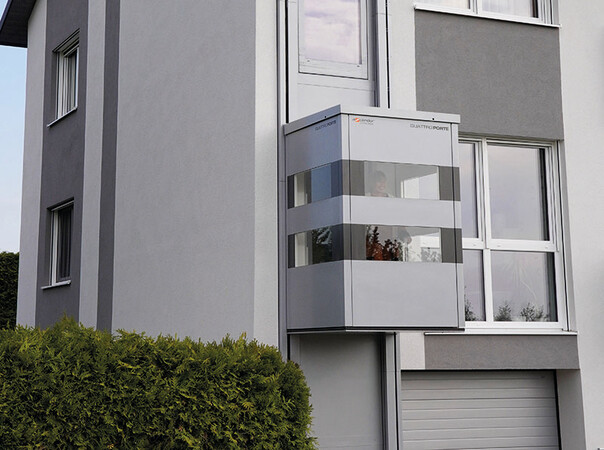 The Thermotür is smoothly integrated into the wall in car and shaft lifts and fits into the building structure. The automatic opening and closing of the Thermotür occurs in all Ascendor lifts via the lift controller.
The new Thermotür is already in use in four lifts in the Ascendor lift portfolio. The advantages of the car lift QuattroPorte are its weatherproof design, heat insulated glass doors and easy mounting, according to Ascendor. The vertical lift UnaPorte is suitable for lifting heights of up to 3 m. The PLV9 platform vertical lift up to 1.4 m lifting height is available with Thermotür for public and private use as well as the type tested shaft lift PL/KL 10.

More information: ascendor.at