Find ten theories on how vertical mobility is being transformed by the coronavirus. (Photo: © Schindler)
Ten theories on how COVID-19 is changing the elevator
How has the meaning behind an elevator's "safe operation" changed in and after a pandemic? Here are ten bold theories on how vertical mobility is being transformed by the coronavirus.
How has the coronavirus changed our perception of the elevator? And how has the meaning behind an elevator's "safe operation" changed in and after a pandemic? The fact is that in addition to safety, the spotlight has increasingly shifted towards health protection. Here, lift planners and operators will find ten bold theories on how vertical mobility is being transformed by the coronavirus.
#1 The uneasiness remains.
Those with claustrophobia have always tended to enter lifts with reluctance, but since the start of the corona pandemic many more have joined them—travelling up or down with a feeling of unease. After all, the cabins are only a few cubic meters in size, enclosed, and who travelled in the cabin previously is usually unknown—conditions that scientists classify as favorable for the spreading of germs.
#2 Passenger behavior is becoming more cautious.
Courtesy is on the rise: passengers no longer squeeze into an already full cabin—often even opting to allow a sparsely occupied lift to move on. Coughing and sneezing in the lift? No thanks (at least if there is someone else in the elevator). Common hygiene tips in the lift remain valid. And who knows, in future cold- and flu-seasons, those in cramped or crowded places may even voluntarily reach for their face masks again.
#3 Alternative elevator controls are on the rise.
Lifts are increasingly operated by smartphone, gestures or voice. Innovative, digital solutions such as Schindler ElevateMe, PORT or CleanCall make it possible to call the elevator without pressing a button.
#4 The function of transit management systems is expanding.
Transit management systems no longer only ensure that people are guided along the most efficient route through the building. In future, they will also ensure that individuals or groups of people do not cross pathsin the building. Sophisticated algorithms search for the best route for everyone, with the fewest encounter points possible.
#5 Hygiene is becoming an operator responsibility.
It's certainly not an obligation, but it has become a clear expectation of visitors and customers. Hotels, conference centers, healthcare facilities, shopping malls and more can now impress (potential) guests and clients with high-tech, comprehensive cleaning solutions.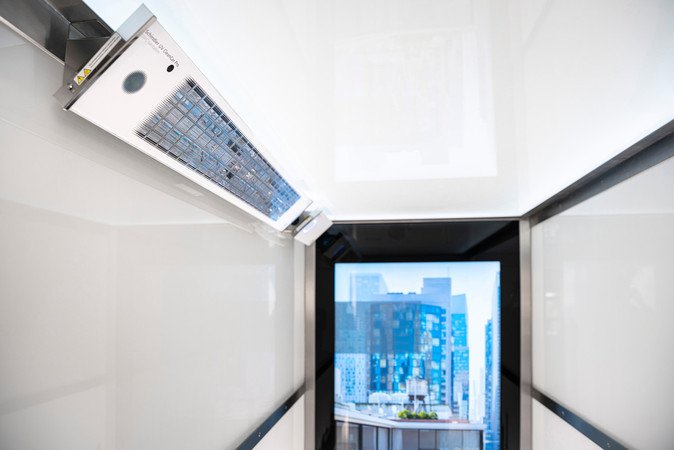 #6 Hygiene solutions will be standardized in modern buildings.
Technical disinfection of public areas will be included in the planning right from the start and will consequently increase the value of buildings. Devices for elevator or handrail disinfection on escalators will be installed directly during new installations.
#7 Operators who invest in cleaning technology now, will continue to benefit in the future.
Lessors or employers with mid to high-rise office buildings and manufacturing facilities, educational institutions, hotel or restaurant owners, commercial enterprises, healthcare facilities: With existing disinfection devices installed in lifts and on escalators, they will all have peace of mind through future epidemics or pandemics, as their hygiene concept already includes permanently and sustainably effective measures.
#8 UV-C disinfection by LED will become the leading technology for hygienic elevators, escalators, and moving walks.
There are three reasons: 1. The technology is efficient and has been established for decades in the medical and food industries. 2. Facility managers do not have to replace and dispose contaminated filters. 3. Devices with LED illuminants are cost-efficient and require little maintenance. Clean light bulbs have a long lifetime of over 9,000 hours of use (i.e. several years of lift operation), and consume little energy at 20, 65 or 125 watts. This efficient and sustainable technology is already in use in Schindler CleanMobility Solutions.
#9 In addition to effectiveness, the design of hygiene devices is increasingly coming to the fore.
No property owner or investor is going to put a big grey disinfection box in the lift in the long term: it reduces the area of the cabin, poses a trip hazard, and thus means an increased liability risk for the operators. Slim and clear product designs that blend harmoniously into the cabin design are on the rise.
#10 The elevator is becoming a communication platform.
Not necessarily in the sense of a location where passengers chat in a relaxed manner (as admittedly, this has never really been the case). But in the cabin, relevant information is played to passengers via screens. In addition to daily headlines, the canteen schedule, event tips or advertising, this can also be a reminder of safe passenger behavior during the elevator ride, or information about hygiene measures implemented in the building. And the passengers and building operators? They can breathe easy again!