It's not only people that like riding in lifts. Pathogens love them too. (Photo: © UVENTIONS)
Next floor: disinfection
Many people pass in and out of lifts each day. The confined space and heavy traffic make them a breeding ground for pathogens. The UVPANEL offers an uncomplicated solution to this using UV-C disinfection.
The newly launched UVPANEL from UVENTIONS offers the possibility to automatically disinfect lifts using UV-C light. On top of the high volume of people and resulting contact in a small space, there is little circulating air in lifts. Surfaces also tend to be cleaned too infrequently for pathogens to be effectively removed.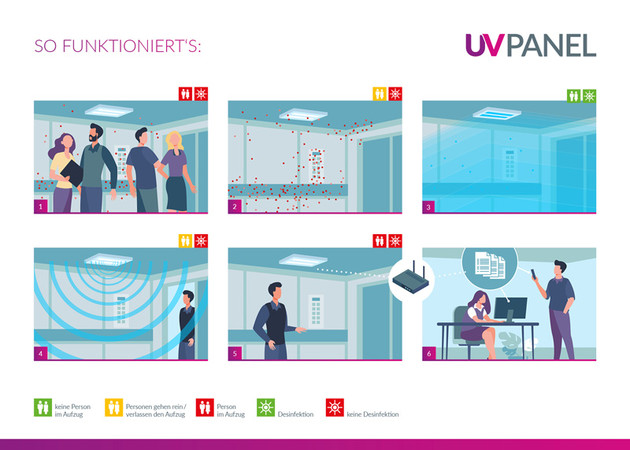 The UVPANEL renders viruses and bacteria – whether they're on surfaces such as handrails and lift buttons or in the air – harmless in just a few minutes. At the same time, it works completely autonomously and according to use: it always starts the disinfection process when there are no people – or animals – in the lift. Its optical sensors scan the space three-dimensionally to identify whether the space is occupied. This means that passengers are not exposed to ultraviolet radiation at any time, even if they are motionless or lying down. The design is also entirely unobtrusive.
Reliably effective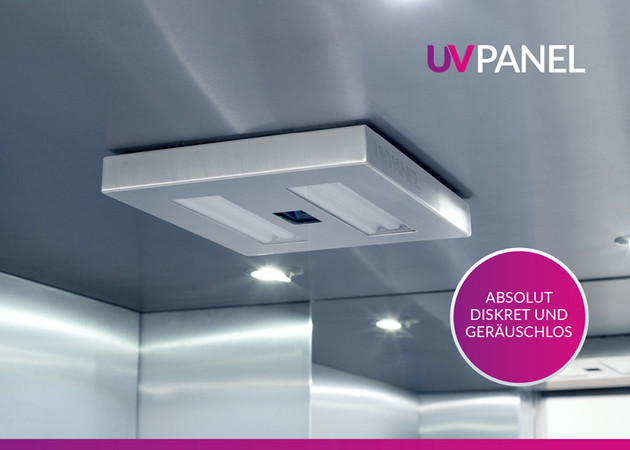 Proof of the UVPANEL's effectiveness was recently provided by the renowned Dr. Brill + Partner GmbH Institute for Hygiene and Microbiology. They placed viruses, bacteria and fungi on surfaces to simulate realistic conditions and then started the disinfection process with the UVPANEL.
The UVPANEL can be easily fitted to the ceiling in existing lift systems. Operation is automatic and completely independent of other lift components. The system stops once a disinfection process has been completed, avoiding wasting unnecessary energy. The long-lasting components require no maintenance either. This makes purchasing the UVPANEL significantly more cost-effective and at the same time more effective than having cleaning staff manually disinfect the lift cabin.
Hygiene: a topic that is here to stay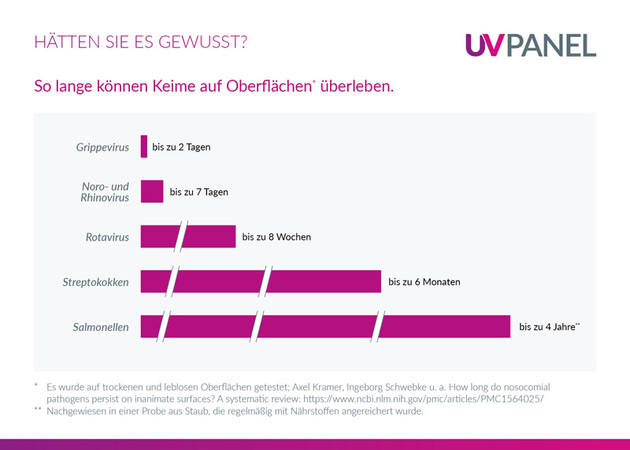 Another point that lift operators and manufacturers should consider in their planning is the increased level of hygiene awareness within society. Demand for infection control solutions has risen sharply recently and will continue to do so in the future.
Whether in the office, hotel or hospital: disinfection of air and surfaces must be properly addressed for an effective and sustainable hygiene regime. The UVPANEL from UVENTIONS offers an effective and practical solution.