The new inspection box GMS375 is a secure and reliable control station to be placed on the car roof in the elevator shaft. (Photo: © Giovenzana)
New inspection box with integrated LED lighting
Giovenzana designed a new inspection box to be placed on the car roof in the elevator shaft.
The customer's need was for a safe and reliable control station in compliance with current regulations that could eliminate some of the safety problems that technicians have to face during on-site maintenance. First and foremost, the problem of poor lighting. The GMS375, designed for use in poor lighting conditions, incorporates two bright LED strip lights moulded into the top of the cover.
These two LED strips provide focused but flexible illumination on both the maintenance station and general illumination on the car roof, improving operator safety and ensuring controlled maintenance. Illuminance is over 350 lux. Protected pushbuttons provide additional security against accidental and inadvertent operation.
The GMS375 – safety first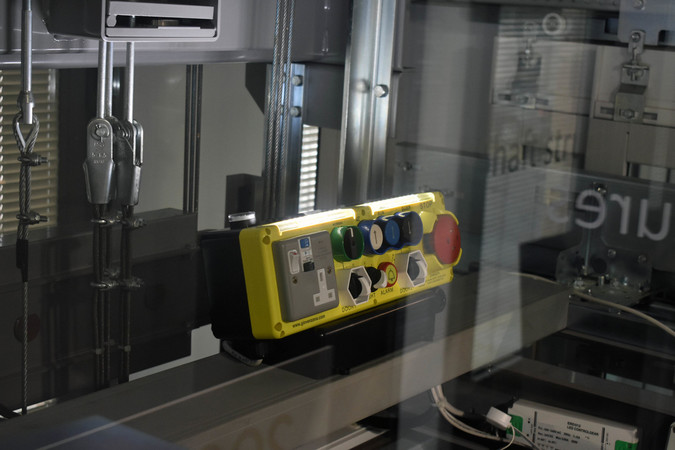 This car roof maintenance station also incorporates all the features for which Giovenzana is renowned in the field of elevator components. The company mission is safety first. For this reason, every single detail has the objective of guaranteeing absolute safety. For example, the new PCW010SS self-monitoring contact fitted under the emergency mushroom head is a SIL3-rated device and increases safety when stopping.
The same degree of safety can be found in the inspection switch with positive opening and SIL3 certification. The shell is made of flame retardant ABS V0 thermoplastic material with a high level of impact resistance. The spring-loaded contact elements are vibration-proof and comply with international safety standards for lifts.
Customisation and personalisation guaranteed
The ergonomic design and lightweight construction make this control panel easy to handle and user-friendly. The inspection box is fully customizable and can be equipped with any type of socket and any European or British RCD to ensure its use worldwide.
It's also customized, for example, in terms of wiring or the number and type of electrical contacts. Giovenzana manufactures tailor-made solutions also pre-wired and 100% tested to ensure a simple and optimal installation by the operator on site.
More information More information to be found online here or by e-mail via giovenzana@giovenzana.com