Flexible LED Strips by Giovenzana International. (Photo: © Giovenzana International)
LIFT SHAFT AND PIT LIGHTING
Giovenzana International B.V. has been known worldwide for over 70 years as a reliable partner for elevator companies.
Continuous research and development allow us to have a strong experience and industry knowledge. We daily work to meet the current market requirements and needs. Our active participation in various institutions all around the world, such as ANIE (member of European Elevator Association), ensures that we are always up-to-date on technical innovations. Our wide range of certified elevator solutions complies with current European and international standards: EN 81-20 / EN 81-50, GOST 33984.1-2016, ASME A17.1 / CSA B44 and ABNT NBR 16858-1:2020. Our mission is SAFETY FIRST, to protect people and the environment through reliable systems and products.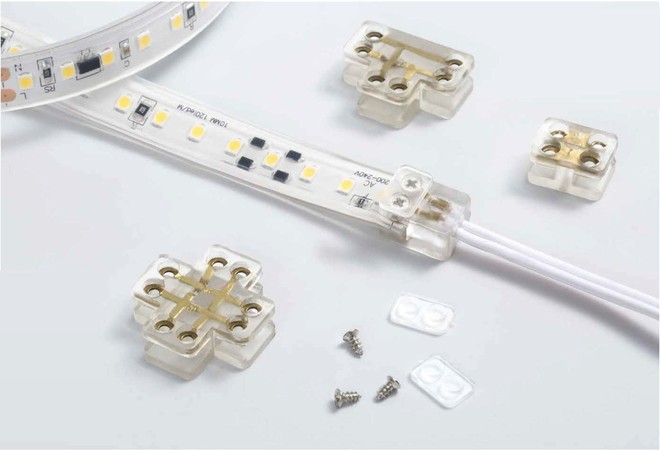 Today, Giovenzana International B.V. develops a new range of lighting solutions for the elevator industry, specifically designed to be installed in elevator shafts. Giovenzana International B. V. offers a practical, modern, versatile, quick to install and high performance solution for illuminating the shaft and pit of lifts, elevators or goods lifts. The product has an IP67 degree of protection, which guarantees long-lasting and high-performance operation even in less than optimal conditions. Our LED strips are available in kits with components to be assembled or in a pre-wired solution. Both guarantee:
High lighting performance;
High safety and preservation of the lighting product;
Ease of installation;
Speed of installation;
Long life and possibility of replacing only the part(s) affected by damage;
Low cost.
The kit is absolutely intuitive, simple and quick to assemble, while the pre-wired solution arrives ready for installation. This new range complies with international standards EN 81-20 / EN 81-50, GOST 33984.1-2016 and ABNT NBR 16858.
Contact and information For more information visit our website or contact our customer support team by emailing giovenzana@giovenzana.com.