(Photo: © IEE Expo)
"IEE Expo is the place to be"
They were planned for February 22, but in view of the Corona pandemic they were postponed until September. Now, IEE Expo 2022 along with E2 Forum in India will be held from 6 – 8 September 2022 at JIO World Convention Centre (JWCC).
The trade fair in Mumbai should bring latest elevator trends and technologies into focus. The first post-pandemic edition is set to converge premier industry brands including Bharat Bijlee, NBSL, Arkel, Bestomech, Celikray, City Lifts, DATIS, Esquire, Excella Electronics, Expedite, Genemek, Giovenzana, Hohner Automation, Invt Electric, Jainox, Mahabali Steel, Mother India Forming, Nidec Control Techniques, Puretronics, RB Electronics, Rolliflex, Schindler, Techtronics, Universal Hydraulics and Ziehl-Abegg.
Affirming his intentions of visiting IEE Expo 2022, Mr GS Balaji, CREDAI-MCHI Procurement Wing Committee Member & Senior Vice President, Reliance Industries stated: "Without doubt IEE Expo is an excellent platform to witness new developments in the elevator industry. It serves as a strong channel for the elevator industry and realty sector's elite to come together and interact productively."
On the second day of the exhibition, organiser Messe Frankfurt India will host a series of knowledge sessions and panel discussions for industry members.
CREDAI-MCHI extends association with IEE Expo
Extending their association for the third consecutive edition, Mr Boman R Irani, Vice President, CREDAI-MCHI, shared: "The real estate sector in India is expected to reach USD 1 trillion by 2030 growing by 19.5% CAGR. This is a clear indication that buyers are now ready to make a move and the future of the real estate sector will remain robust. Our tie-up with IEE Expo for the past two editions has given the construction industry access to intelligent vertical transport and parking systems."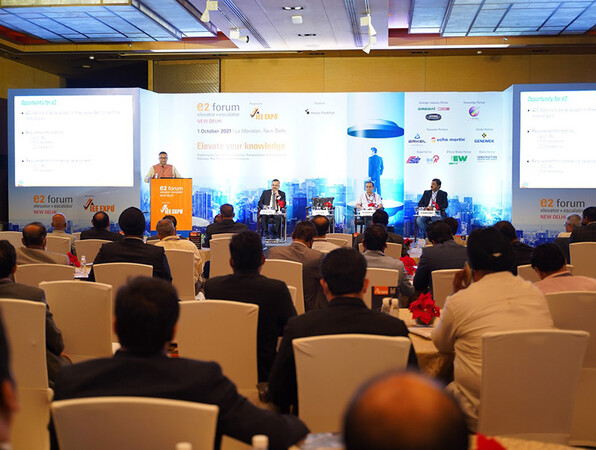 Owing to the "strategic alliance, IEE Expo as a brand has become a trusted choice for real estate moguls" like DLF Ltd, The Wadhwa Group, TATA Realty and Infrastructure Ltd, Marathon Realty Pvt Ltd, Kalpataru Group, Shree Naman Developers Pvt Ltd, Dosti Realty Ltd, Oswal Realty Pvt Ltd, JP Infra Pvt Ltd, Ashar Group, and Lodha Group, stress the organisers. Hosting more than 125 procurement experts over the last two editions, the exhibition has brought decision makers face-to-face with tech experts.
Having visited the exhibition to gauge insights on the elevator technologies beneficial for buildings, Mr Mukesh Jaitley, CREDAI-MCHI Procurement Wing Committee Member & COO Kolte Patil, shared: "As buyers, people just look at the finished product and don't know what technicalities go inside creating the product. But the last edition of IEE Expo gave us insights about the components used to assemble elevators. With this information on backend automation, it will be interesting to see how OEMs utilise these technologies in their finished products."
Discover technological advancements
Sharing a similar sentiment, Mr Nimish Ajmera, CREDAI-MCHI Procurement Wing Convener & Director, Ajmera Realty and Infra India, shared: "It will certainly be interesting to discover technological advancements that have taken place over the last two years in the elevator space. September 2022 – IEE Expo is the place to be!"
IEE Expo 2022 has garnered support from Ministry of Housing & Urban Affairs alongside All India Lift Upliftment Federation (AILUF), Karnataka Elevator Manufacturers Association (KEMA) and Gujarat Elevator Association.

More information: ieeexpo.com