New login facilitations for technicians with Hauer elevatorshop. (Photo: © Hauer GmbH)
Hauer elevatorshop – new login facilitations for technicians
Imagine what it'd be like if elevator technicians could order the spare parts they need online in just a few clicks… and get their hands on them the very next day. The Hauer elevatorshop makes this possible.
Simple and practical – the Hauer elevatorshop's new technician login
Every elevator technician knows that the Hauer elevatorshop is always the first port of call when spare parts are needed. There's always room for improvement, though, and a brand new service has just been added – a special technician login that makes ordering even quicker and simpler.
The technician can use a watch list within the online shop to send the items they need directly to their company's purchasing department – they can even do this while still on site.
Technicians can use almost all shop functions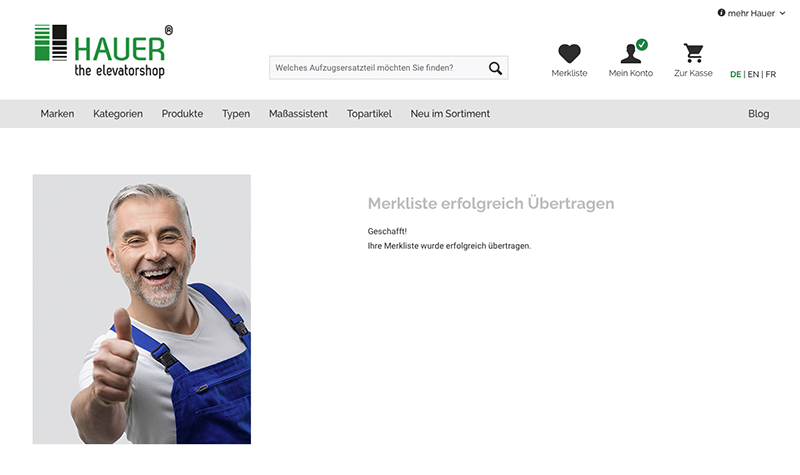 "Picture the scene… you're repairing an elevator and you realise that there's a specific replacement part you need, and you need it urgently. You reach for your smartphone, log in to the Hauer elevatorshop, put the item on one of your watch lists and send it directly to your purchasing department. They, in turn, are informed immediately and can initiate the order. What's more, if we receive your order before 4:30pm, the last point at which next-day delivery is still possible, you will receive your items the next day," explains Petra Leonhardt, Managing Director of Hauer, when describing the new technician login feature.
Until now, login as a registered Hauer customer was generally reserved for those responsible for purchasing. From now on, however, the lift technicians themselves can also register for access so they can use the shop almost to its fullest extent – the only features they can't access are price viewing and direct ordering.
Our one-stop-shop – for benefits on every level
The new technician login makes ordering from the elevatorshop quicker and even more practical – here's a list of the benefits.
① Comfort: Using the new login feature, you as a technician can easily find the spare parts you need, compare your selection and save it to one of your watch lists. Then, in one click, you can send the watch lists you create to your purchasing department for ordering.
② Efficiency: The new feature streamlines the process enormously – the purchasing department can now initiate an order immediately, while the technicians are still on site.
③ Security: The technicians on site know exactly what they need in each case – the details of the required product are transferred directly the procurer, who can then process the order quickly and securely.
④ Delivery time: Hauer's stock in Germany is already large and is constantly growing, guaranteeing a quick and safe supply of spare parts. All items ordered by 4:30pm will be dispatched the same day.
Customer satisfaction is important to us

"We at Hauer have a clear focus on customer satisfaction. We are continuously working to improve our service quality. The new possibilities for technicians, now they have their own login to the shop, are just another aspect of the positive overall picture we want to paint of ourselves as one of the leading specialists in the industry," explains Petra Leonhardt.
Contact and information Contact Hauer GmbH, An der Raumfabrik 31A, DE-76227 Karlsruhe, Phone: +49 72121 947950, E-Mail: sales@elevatorshop.de
Website For further information follow this link to the Hauer-website.