The DomusLift XS, Italy's smallest lift, made by IGV Group, is for example located in a house in Ghent/Belgium. (Photo: © IGV Group)
DomusLift XS, the smallest lift Made in Italy
DomusLift XS by IGV Group is the smallest lifting platform available on the market and it is fully Made in Italy. Discover its unique features!
The tailored Italian lift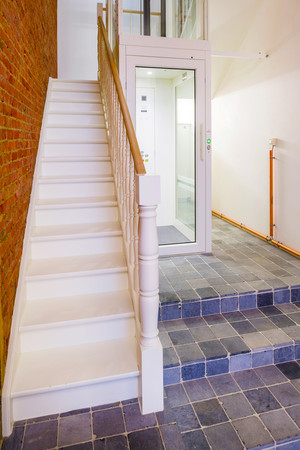 IGV Group has been manufacturing tailored lift solutions for over fifty years. The Italian company has a leading role in the vertical transportation sector and it is outstandingly renowned for its style and refined design. XS is the slimmest DomusLift ever: a very narrow model designed to fit the smallest shafts thanks to its extremely reduced dimensions.
The location for the pictured installation is Ghent, in Belgium. The XS homelift is part of the renovation of a residential building in the heart of the medieval town, converted into a Boutique Hotel. The customer's request was aimed at a lift system built in the flights of stairs in the entrance hall, in order to reach and connect the upper floors, where the hotel rooms are located.
DomusLift XS design and technical features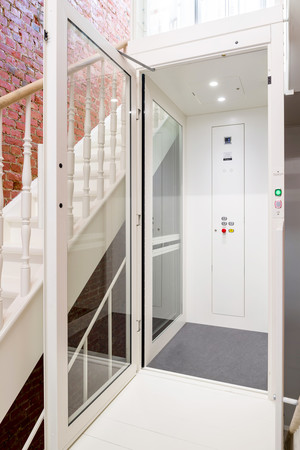 The highly reduced dimensions of this homelift model, starting from only 65 x 91 cm, allow to install the system in any architectural context, even in the most complex situations. This DomusLift XS installation is enclosed in a fully panoramic shaft structure seamlessly fitting the modernised hotel space characterized by materials with strong contrasting colours, mixing bricks, ceramics, wood and copper.
The glass in the car and shaft structure offers plenty of transparency and natural light. The intervention has been extended to the connecting walkways and balustrades in order to provide harmony of materials and finishes. The DomusLift range includes all-Italian products offering advanced technology and innovative designs. Every lift is manufactured in-house and meets the highest standards of safety and functionality.
Background Discover more online here.