(Photo: © Giovenzana)
Bottom control station with patented reed sensor
TLP5S008 – IP65 Pit bottom control station with patented reed sensor and pocket is fully compliant with the main international standards on Elevators.
The bottom control station is not only fully compliant with the main international standards on Elevators – ASME A17.1-2019 / CSA B44-2019, EN81-20 / EN81-50, GOST33984.1-2016, ABNT NBR 16858 –, its design also incorporates the main rules:
Emergency mushroom device conforming to IEC/EN 60947-5-5;
Mandatory run button;
Operators protected against accidental collisions;
Standard-bound cam switch for inspection operation with solid drive and without margin of error in switching;
Contact blocks with spring clamp conforming to EN 60068-2-6 and EN 60068-2-27 and vibration resistant with IP20 protection rating;
AC-15 and DC-13 contact units complying with EN 60947-5-1:2005;
Vibration and shock resistant according to EN 60068-2-26, EN 60068-2-27 and EN 60068-2-29;
The components are manufactured in accordance with IEC 947-3, IEC 947-5-1, EN 60947-3, EN 60947-5-1, UL 508, IEC204-1, EN 60204-1, EN ISO 13850 and to RoHS, PFOS, RAEE, REACH regulations.
The pantented Reed Contact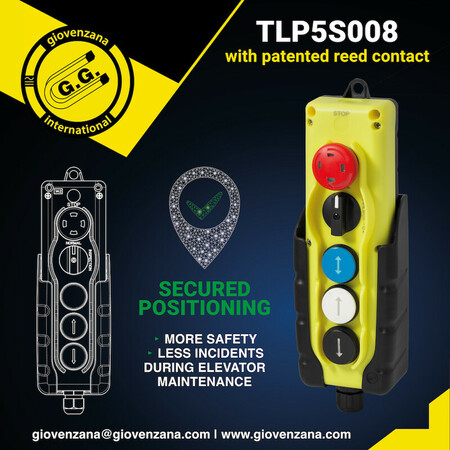 The added value of the inspection control station lies in the patented reed contact, which is used to identify the presence of the inspection apparatus at a specific point in the pit compartment shelter area, according to EN 81-20. The reed contact ensures that the inspection control station is positioned in such a way as to ensure that the mounted emergency button is effectively accessible by the operator. If the reed contact does not indicate the correct positioning of the inspection control station, the system does not need to be enabled for maintenance.
The patented reed contact ensures the safety of the operator during maintenance, using a product fully compliant with current regulations.
Background Information Information For further information write an E-Mail to giovenzana@giovenzana.com and visit our website here.
This might interest you as well: